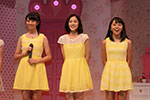 S/mileage 3rd Generation members were announced on October 4th.
3 new girls joined S/mileage as 3rd generation members : Aikawa Maho, Sasaki Rikako, Murota Mizuki.
Aikawa Maho is 15 years old. She was a trainee from Hello Pro Kenshuusei since May 2014.
Sasaki Rikako is a former member of SCK Girls. She had joined Hello Pro Kenshuusei in late March 2013. She is 13 years old.
Murota Mizuki was also part of Hello Pro Kenshuusei since the same period. She is 16 years old. Her nickname is Murotan.
The press conference was held before the first performance of S/mileage musical Smile Fantasy.
The idol group from Hello! Project has now 9 members.
Moreover, fans can submit suggestions for the new group name on a special website.