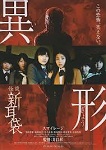 The horror movie Kaidan Shin Mimibukuro Igyou (怪談新耳袋・異形) starring S/mileage will be released in theaters on August 11.
It is S/mileage's first movie in a leading role. All current members were casted : Wada Ayaka, Fukuda Kanon, Nakanishi Kana, Takeuchi Akari, Katsuta Rina and Tamura Meimi.
Kaidan Shin Mimibukuro ・Igyou is the 5th movie based on the TV series Tales of Terror from Tokyo and All Over Japan (怪談新耳袋).
Trailer