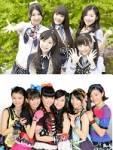 Dorothy Little Happy, Party Rockets, Maina, B♭ (B Flat), Mimi, and Happy Dance will perform at Step One New Piece 2012.
The live will be held on December 2 in Sendai and on December 15 in Tokyo.
The event is organized by Step One Junior Talent Agency to which all these units belong to.
Schedule
Date : 02/12/2012
Time : 13:30 (1st stage) / 17:30 (2nd stage)
Venue : Digital Arts, Sendai
Line up :

Dorothy Little Happy
Party Rockets
Maina
B♭ (B Flat)
Mimi
Happy Dance
Date : 15/12/2012
Time : 12:30 (1st stage) / 16:30 (2nd stage)
Venue : Daikanyama Unit, Tokyo
Line up :

Dorothy Little Happy
Party Rockets
Maina
B♭ (B Flat)
Mimi
Happy Dance