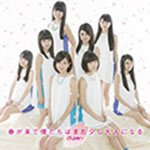 Sunmyu's new single Haru ga Kite Bokutachi wa Mata Sukoshi Otona ni Naru (春が来て僕たちはまた少し大人になる) will be released on March 19.
This is the 5th single from Sunmyu. It marks the 1st anniversary of the major label debut of the idol group.
The MV has been released.
The title song is about the sad farewell during a graduation and the hope to meet new people.
The lyrics were written by Fujikawa Kako. The music was composed and arranged by Inoue Shinjiro.
4 versions are available. The coupling track is different for each one of them.
The limited editions include a bonus DVD with music videos, making-of footage, and Document of Sunmyu Live 2013 featuring 4 members of the idol group.
This single comes with a photo randomly selected, a ticket for a handshake event, and a lottery ticket for a photo shooting with a member of the idol unit.
Furthermore, Sunmyu (さんみゅ~) Live 2014 Sun & You -Haru no Arashi- (-春の嵐-) will be held on April 12 at Shinagawa Prince Stellar Ball in Tokyo.
Tracklist
Regular Edition

CD

Haru ga Kite Bokutachi wa Mata Sukoshi Otona ni Naru (春が来て僕たちはまた少し大人になる)
Daisuki Da Nando Demo ~Yume no Shippo~ (大好きだ 何度でも~夢のしっぽ~)
Bokura no Renaissance (僕らのルネサンス)
Haru ga Kite Bokutachi wa Mata Sukoshi Otona ni Naru (春が来て僕たちはまた少し大人になる) (Instrumental)
Daisuki Da Nando Demo ~Yume no Shippo~ (大好きだ 何度でも~夢のしっぽ~) (Instrumental)
Bokura no Renaissance (僕らのルネサンス) (Instrumental)
Type A

CD

Haru ga Kite Bokutachi wa Mata Sukoshi Otona ni Naru (春が来て僕たちはまた少し大人になる)
Daisuki Da Nando Demo ~Yume no Shippo~ (大好きだ 何度でも~夢のしっぽ~)
Bokura no Renaissance (僕らのルネサンス)
Haru ga Kite Bokutachi wa Mata Sukoshi Otona ni Naru (春が来て僕たちはまた少し大人になる) (Instrumental)
Daisuki Da Nando Demo ~Yume no Shippo~ (大好きだ 何度でも~夢のしっぽ~) (Instrumental)
Bokura no Renaissance (僕らのルネサンス) (Instrumental)

DVD

Haru ga Kite Bokutachi wa Mata Sukoshi Otona ni Naru (春が来て僕たちはまた少し大人になる) (Music Video)
Haru ga Kite Bokutachi wa Mata Sukoshi Otona ni Naru & Bokura no Renaissance (春が来て僕たちはまた少し大人になる & 僕らのルネサンス) (Music Video Making Vol.01)
Haru ga Kite Bokutachi wa Mata Sukoshi Otona ni Naru (春が来て僕たちはまた少し大人になる) (Jacket Making)
Type B

CD

Haru ga Kite Bokutachi wa Mata Sukoshi Otona ni Naru (春が来て僕たちはまた少し大人になる)
Yume wa Ikiteiru (夢は生きている)
Bokura no Renaissance (僕らのルネサンス)
Haru ga Kite Bokutachi wa Mata Sukoshi Otona ni Naru (春が来て僕たちはまた少し大人になる) (Instrumental)
Yume wa Ikiteiru (夢は生きている) (Instrumental)
Bokura no Renaissance (僕らのルネサンス) (Instrumental)

DVD

Bokura no Renaissance (僕らのルネサンス) (Music Video)
Haru ga Kite Bokutachi wa Mata Sukoshi Otona ni Naru & Bokura no Renaissance (春が来て僕たちはまた少し大人になる & 僕らのルネサンス) (Music Video Making Vol.02)
Type C

CD

Haru ga Kite Bokutachi wa Mata Sukoshi Otona ni Naru (春が来て僕たちはまた少し大人になる)
Tsukiyo no I Love You (月夜のI love you)
Bokura no Renaissance (僕らのルネサンス)
Haru ga Kite Bokutachi wa Mata Sukoshi Otona ni Naru (春が来て僕たちはまた少し大人になる) (Instrumental)
Tsukiyo no I Love You (月夜のI love you) (Instrumental)
Bokura no Renaissance (僕らのルネサンス) (Instrumental)

DVD

Document of Sunmyu (さんみゅ~) Live 2013 Let's make a magical time♪ 2013.11.16 (Noda Mami)
Document of Sunmyu (さんみゅ~) Live 2013 ~Ii Iro no Hi~ Anata wo Sunmyu Iro ni Somemasu (~いい色の日~あなたをさんみゅ~色に染めます♥) (Kyogoku Tomoka)
Document of Sunmyu (さんみゅ~) Live 2013 Santa ni Koi Suru Christmas (サンタに恋するクリスマス) 2013.12.21 (Nishizono Misuzu)
Document of Sunmyu (さんみゅ~) Live 2013 Grand Final! ~Arata na Ippo ni Mukete~ (グランドフィナーレ!~新たな一歩に向けて~) (Kinoshita Ayana)
Music Video (PV)