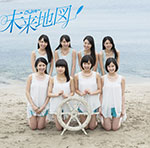 Sunmyu's 1st album Mirai Chizu (未来地図) was released on August 6.
This album contains 15 songs including the first 9 singles from Sunmyu. The Type A edition includes a DVD with a documentary on the idol group and other bonus videos.
The Type B edition comes with a 2nd CD featuring 15 songs selected from the B-side tracks, and a photobook.
The album Mirai Chizu includes some tickets for a handshake event with the members of Sunmyu and for a special live performance.
Tracklist
CD

Kuchibiru Network (くちびるNetwork)
Minna no Taiyou (みんなの太陽) (2014 Version)
Hallelujah (ハレルヤ)
Junjou Mermaid (純情マーメイド)
Yume Bouken (夢冒険)
First Date (ファースト・デイト)
Shiroi Tsubomi (白い蕾)
Hoho ni Kiss Shite (ほほにキスして)
Bokura no Renaissance (僕らのルネサンス)
Kore ga Ai Nanda (これが愛なんだ)
Hatsukoi (初戀)
Haru ga Kite Bokutachi wa Mata Sukoshi Otona ni Naru (春が来て僕たちはまた少し大人になる)
Natsu Matsuri夏祭り
Sotto, Gyutto, Motto, Zutto (そっと、ぎゅっと、もっと、ずっと) (2014 Version)
Bokura no Mirai Chizu (僕らの未来地図)
DVD (Type A)

Document of Sunmyu Live 2014 Haru no Arashi Vol.01
Document of Sunmyu Live 2014 Haru no Arashi Vol.02
Gotouchi Song Senshuken!! Dai Hanseikai ( ご当地ソング選手権!!大反省会!!!)
Omake. Apo Nashide Rikkouho Shitemita おまけ。アポ無しで立候補してみた。
CD 2 (Type B)

Mezameyo! Otome (目覚めよ! 乙女)
Live a Live! ~Ai ga Areba Daijoubu~ (Live a Live! ~愛があれば大丈夫~)
Glass no Kisetsu (ガラスの季節)
Jitensha Tsuugaku (自転車通学)
Yume wa Ikiteiru (夢は生きている)
Secret Blue Memories
Owaranaide, Natsu (終わらないで、夏)
Ame no Birthday (雨のバースデイ)
Tsukiyo no I Love You (月夜のI love you)
Komorebi to Orange (木洩れ日とオレンジ)
Kakenukero! Seishun (駆け抜けろ! 青春)
Kiss wo Kudasai (キスをください)
Daisuki Da Nando Demo ~Yume no Shippo~ (大好きだ 何度でも~夢のしっぽ~)
Thank you for the Music
Mae ni Susume! (前にススメ!)