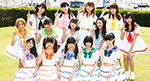 SUPER☆GiRLS is a Japanese idol group formed in 2010 by Avex Trax and produced under iDOL Street label.
They are also known as SupaGa (スパガ) or S☆G.
It currently consists of 14 members. Each one has been assigned a color.
SUPER☆GiRLS is a sister group of Cheeky Parade and GEM.
The concept is "idols growing together".
The leader is Maeshima Ami.
Biography / History
7000 people aged from 9 to 23 years old participated in Avex Idol Audition 2010 (avex アイドルオーディション 2010) which started in late December 2009. The members were selected among the 24 finalists in June 2010.
Their first regular radio program started in July 2010.
They made their debut with the album Chouzetsu Shoujo (超絶少女) in December 2010.
Their 1st single Ganbatte Seishun (がんばって 青春) was released in April 2011.
They won the Rookie of the Year Award at the 53rd Japan Record Award (第53回日本レコード大賞) in November 2011.
Arai Reira was a model for JJ fashion magazine from 2011 to 2014.
Akita Eri graduated in February 2012 in order to focus on her studies.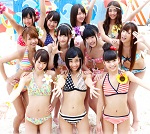 Their regular TV variety show SUPER☆GiRLS no Chouzetsu Adventure (SUPER☆GiRLSの超絶アドベンチャー) starting being broadcast on Pigoo HD in April 2012.
Miyazaki Rina played in the movie Kotsutsubo (骨壷) along with other idols. The film was released in May 2012.
In October 2012, they participated in the campaign Fure! Fure! Fragrance! (フレ!フレ!フレグランス!) to promote Jeanne Arthes (ジャンヌ・アルテス) fragrance brand via Love Perfume.
Kano Kaede withdrew in January 2013 due to personal issues.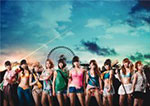 The members were starring in the drama Chouzetsu Zekkyou Land (超絶☆絶叫ランド). The series was broadcast from July 27 to September 25, 2013 on CBC and TBS networks.
Tanakai Mirei, Shimura Rika, and Maeshima Ami performed as voice actresses (seiyuu) in the movie version of the anime Hunter × Hunter -The Last Mission- which was released in December 2013 in Japan.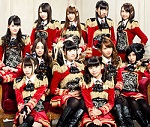 SUPER☆GiRLS released 3 singles simultaneously on December 4, 2013. The idol group is divided into 3 sub-units : Twinkle Veil (トゥィンクルヴェール), Candy Macchiato (キャンディーマキアート), and Maeshima Ami. They performed covers of idol songs from the 70s, the 80s and the 90s.
SUPER☆GiRLS participated in Kawaii Pop Fes by @Jam in Taiwan in January 2014 along with other Japanese idols.
Leader Yasaka Saori graduated on February 23, 2014. Shimura Rika became the new leader.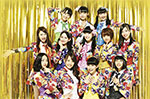 On the same day, 3 new members, Asakawa Nana, Uchimura Risa and Watanabe Koume joine the idol unit on the same day. Watanabe Koume was previously part of Party Rockets. It marks the beginning of the 2nd chapter of the history of SUPER☆GiRLS.
In April 2014, all the members of SUPER☆GiRLS participated in Honolulu Half Marathon Hapalua (ホノルルハーフマラソン・ハパルア2014) in Hawaii. Mizote Ruka won the 1st place in the female 15-19 category. Arai Reira came in 2nd position.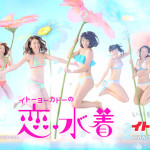 In May 2014, Shimura Rika, Arai Reira, Tanaka Mirei, Goto Aya and Maeshima Ami appeared in a TV CM for Ito Yokado (イトーヨーカドー) swimwears. The marketing campaign is entitled Koi Mizugi (恋☆水着).
In June 2014, Tanaka Mirei was starring in the drama First Class (ファースト・クラス) broadcast on Fuji TV along with Sawajiri Erika.
Miyazaki Rina acted in the stage play Peach Boys in July 2014.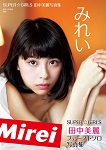 Tanaka Mirei's 1st photobook Mirei (みれい) was published in July 2014.
In July 2014, SUPER☆GiRLS team travel uniforms were introduced. The costumes were designed by Arai Reira.
In September 2014, Miyazaki Rina appeared in the movie Alps Jogakuen (アルプス女学園) along with members from other idol groups.
SUPER☆GiRLS' 3rd photobook Revolution was published in September 2014.
Tanaka Mirei and Miyazaki Rina participated in a campaign to promote domestic food in October 2014.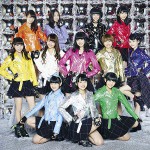 In October 2014, Miyazaki Rina was starring in the stage play Debug Treasure (デバッグトレジャー) with Kanazawa Yuki (GEM).
Shimura Rika, Watanabe Koume and Tanaka Mirei have been chosen as special models for Vanquish Venus fashion brand in November 2014.
The 4th iDOL Street Sports Festival (第4回 秋の大運動会2014 ~アイドルの汗が眩しすぎンだよぉ!!~) was held in November 2014. SUPER☆GiRLS, Cheeky Parade and GEM took part in various sports challenges.
Shimura Rika appeared on Osaremon (オサレもん) variety program on Fuji TV in November 2014.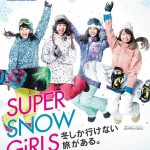 Arai Reira, Shimura Rika, Miyazaki Runa and Tanaka Mirei participated in a commercial for Tokyu Snow Resort (東急スノーリゾート) as Super Snow Girls in the winter of 2014.
Mizote Ruka held her 1st solo live The Origin of the Music in January 2015. This event celebrated her 18th birthday. She performed a cover of Alicia Keys' If I Ain't Got You on the piano.
Their 12th single Gira Gira Revolution (ギラギラRevolution) was the tie up song for Tokyo Resort Service's PR campaign Fuyu Shika Ikenai Tabi ga Aru (冬しか行けない旅がある) in January 2015
Shimura Rika, Sekine Yuna (Cheeky Parade) and Kanazawa Yuki (GEM) make regular appearances on the show Harajuku Base (原宿ベース) on Chiba TV since January 2015. They talk about Harajuku fashion.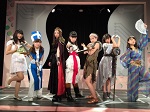 21 members from SUPER☆GiRLS, Cheeky Parade and GEM performed in the theater show Chouzetsu☆Utagekidan 2015 ~Super World☆Returns~ (超絶☆歌劇団 2015 ~Super World☆Returns~) at Tokyo DDD Aoyama Cross Theater in February 2015. Teams were led by Watanabe Koume, Mizorogi Seran and Murakami Rana.
Goto Aya graduated in March 2015.
Some members took a special certification exam organized by iDOL Street in March 2015. Asakawa Nana passed the test and got 100 points, which is the perfect score. She received a commemorative badge and an invitation to a special event.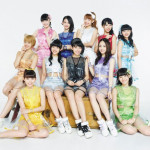 Tanaka Mirei played in the drama Yokoso, Wagaya e (ようこそ、わが家へ) broadcast on Fuji TV from April to June 2015.
SUPER☆GiRLS were wearing swimsuits in the new version of the commercial Koi Mizugi (恋・水着) for Ito Yokado (イトーヨーカドー) in May 2015.
Tanaka Mirei has been appointed exclusive model for Jelly magazine in June 2015.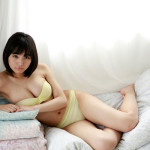 Asakawa Nana became popular when sexy pictures of her were published in Weekly Playboy (週刊プレイボーイ) in June 2015. She has been nicknamed the "once in 1000 years baby face huge breasts idol" (1000年に1度の童顔巨乳) in reference to Hashimoto Kanna (Rev. from DVL).
The music video for their 13th single Icchatte Yacchatte (イッチャって♪ ヤッチャって♪), on sale in August 2015, is an hommage to their 2nd one Max! Otome Gokoro. The members are wearing bikinis. They are playing various games such as limbo, smashing balloons, eating watermelon as fast as possible… in a training camp.
In August 2015, SUPER☆GiRLS held a 60-minute non-stop live supported by New Balance. They were wearing running shoes of this footwear manufacturer on stage.
Arai Reira's 1st style book Am I Idol? Or not? was published in September 2015. The book includes photos of her in lingerie.
In October 2015, Tanaka Mirei played as a pretty baseball team manager in the drama Watashi wo Koushien ni Tsurette (私を甲子園に連れてって) broadcast on the variety show Sukatto Japan (痛快TV スカッとジャパン).
The members of the idol group host the variety show One Chance (ワンチャン) on TV Tokyo since October 2015.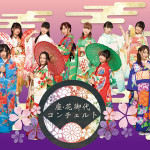 In November 2015, Asakawa Nana, Maeshima Ami, Watanabe Koume (SUPER☆GiRLS), Nizorogi Seran (Cheeky Parade), Murakami Rana, Iyama Maho, Morioka Yu, Oguri Kako, Takeda Maya, Minamiguchi Nana, Kanazawa Yuki (GEM), Matsunaga Nene (Girls Street Audition) were starring in the stage play Girls Street Theater 2015 Za Hana Miyo Concerto (座・花御代コンチェルト).
In December 2015, Miyazaki Rina appeared in the stage play Hakase no Ai Shita Suushiki (博士の愛した数式).
Former leader Yasaka Saori held a solo live performance with a rock band in February 2016.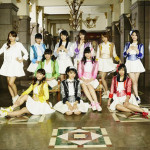 Arai Reira co-hosts the radio show English Jukebox on Tokyo FM since February 2016.
Their 4th album Super★Castle was released in March 2016. It includes the song Karei Naru V!ctory (華麗なるV!ctory).
In March 2016, Watanabe Koume participated in a marketing campaign for Morinaga's Okashi Print (おかしプリント) sweets.
Maeshima Ami and Miyazaki Rina performed in the stage play Kujira no Kora wa Sajou ni Utau (クジラの子らは砂上に歌う) in April 2016 at AiiA 2.5D Theater Tokyo.
Arai Reira and Katsuta Rino graduated from SUPER☆GiRLS in June 2016. Arai Reira became a model.
As a result, Kidoguchi Sakurako (Sapporo Snow Loveits), Ishibashi Hotaru (Avex Artist Academy), Ozawa Runa (Nagoya Chubu), Abe Yumeri (Tokyo Yume Pyo Gumi) and Nagao Shiori (Nagoya Chubu) were recruited as 3rd generation members in June 2016.
Maeshima Ami replaced Shimura Rika as the new leader at the same time.
SUPER☆GiRLS' 14th single Love Summer (ラブサマ!!!) is going to be released in August 2016.
Profile
SUPER☆GiRLS (スーパーガールズ)
Years active : 2010 – present
Label : iDOL Street
Agency : Avex Management
Members
Shimura Rika (志村理佳) – White
Watanabe Hikaru (渡邉ひかる) – Gold
Miyazaki Rina (宮崎理奈) – Yellow
Tanaka Mirei (田中美麗) – Black
Mizote Ruka (溝手るか) – Red
Maeshima Ami (前島亜美) – Pink
Watanabe Koume (渡邉幸愛) – Silver
Asakawa Nana (浅川梨奈) – Mint Green
Uchimura Risa (内村莉彩) – Royal Blue
Kidoguchi Sakurako (木戸口桜子)
Ishibashi Hotaru (石橋蛍)
Ozawa Runa (尾澤ルナ)
AbeYumeri (阿部夢梨)
Nagao Shiori (長尾しおり)
Former Members
Akita Eri (秋田恵里) – Green
Kano Kaede (稼農楓) – Blue
Yasaka Saori (八坂沙織) – Sky Blue
Goto Aya (後藤彩) – Orange
Arai Reira (荒井玲良) – Purple
Katsuta Rino (勝田梨乃) – Navy Blue
Discography
Singles
20/04/2011 : Ganbatte Seishun (がんばって 青春)
15/06/2011 : Max! Otome Gokoro / Happy Go Lucky! ~Happy☆Lucky de Go!~ (Max!乙女心/Happy Go Lucky!~ハピ☆ラキでゴー!~)
05/10/2011 : Joshiryoku←Paradise (女子力←パラダイス)
18/04/2012 : 1,000,000☆Smile (1,000,000☆スマイル)
04/07/2012 : Puri Puri ♥ Summer Kiss (プリプリ♥Summerキッス)
24/10/2012 : Akai Jounetsu (赤い情熱)
12/06/2013 : Tokonatsu High Touch (常夏ハイタッチ)
04/12/2013 : Toshishita no Otokonoko (年下の男の子) (Candy Macchiato)
04/12/2013 : Sentimental Journey (センチメンタル・ジャーニー) (Maeshima Ami)
04/12/2013 : Jin Jin Jingle Bell (ジン・ジン・ジングルベル) (Twinkle Veil)
12/02/2014 : Sorairo no Kiseki (空色のキセキ)
14/05/2014 : Hanamichi!! Ambitious (花道!!ア~ンビシャス)
13/08/2014 : Ahhahha! ~Chouzetsu Bakushou Ondo~ (アッハッハ!~超絶爆笑音頭~)
18/02/2015 : Gira Gira Revolution (ギラギラRevolution)
19/08/2015 : Icchatte Yacchatte (イッチャって♪ ヤッチャって♪)
31/08/2016 : Love Summer!!! (ラブサマ!!!)
Albums
22/12/2010 : Chouzetsu Shoujo (超絶少女)
01/02/2012 : Everybody Jump!!
20/02/2013 : Celebration
09/03/2016 : Super★Castle
Best-of Albums
26/03/2014 : Chouzetsu Best 2010-2014 (超絶少女☆Best 2010〜2014)
Links
News