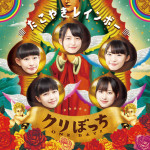 Tacoyaki Rainbow will release its new single Kuri Bocchi One Day!! (クリぼっちONE DAY!!) on December 15.
This is the 6th single of Tacoyaki Rainbow.
The music video and the tracklist were unveiled.
The title song Kuri Bocchi One Day!! is the Christmas song. So is the main B-side song Naniwa mo Jingle Bell.
In the clip, the members of idol group take us into the Christmas and winter spirit. the members of Takoyaki Rainbow fight off the depression which is a common disease affecting young Japanese bachelors during the period of the great winter festivals. The members enter a streetcar that has been decked out in all kinds of Christmas decorations and is even driven by a breakdancing Santa Claus.
This single is available in several editions. The B-side songs in 3rd track are different on each edition. The DVD of one of the limited editions contains the music video of the title song and its making of.
Let yourself be carried away by the Christmas spirit watching the music video below.
Tracklist
Maido ver.

CD

Kuri Bocchi One Day!! (クリぼっちONE DAY!!)
Naniwa mo Jingle Bell (なにわもジングルベル)
Meccha Punk (めっちゃPUNK)
Ookini ver.

CD

Kuri Bocchi One Day!!
Naniwa mo Jingle Bell
Tanoshi Kashimashi Ōsaka ~Oide yasu~ (たのしかしまし大阪~おいでやす~)
Kansai ver.

CD

Kuri Bocchi One Day!!
Naniwa mo Jingle Bell
Number de Samba 2 (ナンバでサンバ2)
Venue ver.

CD

Kuri Bocchi One Day!!
Naniwa mo Jingle Bell

DVD

Kuri Bocchi One Day!! (Music Video)
Making of video
Music Video (PV)