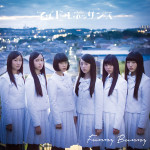 Idol Renaissance's new single Funny Bunny will be on sale on December 22.
It is a cover of the song of the same title by The Pillows.
The MV has been unveiled.
In the video, the members of the idol group powerfully sing on top of a hill. The scene expresses their positive attitude and their strong feelings for the future and the realization of their dreams.
This single is the 3rd consecutive release by Idol Renaissance in 3 months after Time Travel / Lucky (タイム・トラベル / Lucky) on October 27, and Yuki ga Furu Machi / Galileo no Showcase (雪が降る町 / ガリレオのショーケース) on November 24.
The coupling songs are covers of Music Lovers by Jerry Lee Phanthom, and Silhouette by Kana-Boon.
In addition, Idol Renaissance are going to participate in a series of events in Tokyo from December 6 to 27.
Tracklist
Funny Bunny
Music Lovers
Silhouette (シルエット)
Funny Bunny (Instrumental)
Music Lovers (Instrumental)
Silhouette (Instrumental)
Music Video (PV)