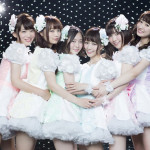 Takeda Saki and Nakano Yumi announced their graduation from Palet.
This sudden announcement was made on December 11 during a live performance of the idol group at Akiba Cultures Theater.
Both girls gave some explanations about this decision.
Nakano Yumi suffers leg pain. She is following a medical treatment since last summer, but her health has deteriorated and it is more and more difficult for her to dance. She explained that her dream is to pursue her career as a solo singer.
Takeda Saki told that she was planning to study abroad. She wants to study foreign languages and music.
The 2 members are going to hold their graduation live with Palet on December 28 at Akasaka Blitz.