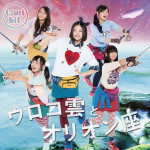 The idol group Tsuri Bit will release its 7th single Uroko Gumo to Orion za (ウロコ雲とオリオン座) on December 16.
The single deals with the usual theme of fishing and year-end festivals theme.
The tracklist and covers were unveiled us.
Check out the music videos.
The title song will serve as the ending theme song for the TV program Akko ni wo Makase! (アッコにおまかせ!) on TBS in Januaryand February 2016.
The single will be released in limited edition (CD+DVD) and 2 regular ones Type A and B. The editions will include all different CD. The B-side track is different depending on the edition.
Tracklist
Type A

CD

Uroko Gumo to Orion za (ウロコ雲とオリオン座)
O Sakana Katachi Candy (おさかな形キャンディー)
Uroko Gumo to Orion za (Instrumental)
O Sakana Katachi Candy (Instrumental)
Type B

CD

Uroko Gumo to Orion za
Bakuchō Orei (爆釣御礼)
Uroko Gumo to Orion za (instrumental)
Bakuchō Orei (instrumpental)
Limited Edition

CD

Uroko Gumo to Orion za
Nigashita Sakana Ha Oki Izo (ニガシタサカナハオオキイゾ)
Uroko Gumo to Orion za (instrumental)
Nigashita Sakana Ha Oki Izo (instrumental)

DVD

Uroko Gumo to Orion za (Music Video)
Music Video (PV)