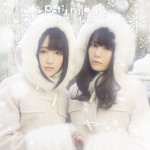 The group petit milady will release its new album Mille Mercis on December 23.
The album cover deals with winter and year-end festivals theme.
This is the first best-of album of petit milady combining the first singles oàf the idol group since its debut etv eventually songs from its first two albums.
The MV for Kirari Kirari (キラリキラリ) has been revealed.
As you may have noticed, the title is taken from French terms ; its translation is "a thousand thanks".
The album will be sold in regular and limited editions. The limited edition will come with a DVD containing the video clip Kirari Kirari and footage from petit milady 2nd live.
Tracklist
CD

azurite
Fantastique♥Phantom
Ma Chérie
Update no Sakamichi (アップデートの坂道)
Fortune Future!
THE SONG IS…
Suki Kira Kirai Daisuki (スキ キライ キライ 大スキ♡)
100% Ciber Girl (100%サイダーガール)
Koi wa Milk Tea (恋はみるくてぃ)
trip trick trap
DVD

Kirari Kirari (キラリキラリ) (Music Video)
Amphitheater no Kaijin! Fantom wo Sagase! ~2nd LIVE Janai yo~ Yoru no bu Daijesuto
Music Video (PV)