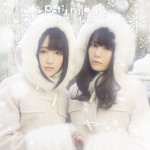 The group petit milady will release its new album Mille Mercis on December 23.
The album cover deals with winter and year-end festivals theme.
This is the first best-of album of petit milady combining the first singles oàf the idol group since its debut etv eventually songs from its first two albums.
The MV for Kirari Kirari (キラリキラリ) has been revealed.