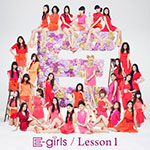 E-Girls' 1st album Lesson 1 will be released on April 17.
The album contains 14 songs, including their first 5 singles.
The limited edition comes with a DVD featuring 6 music videos and a bonus track recorded at Exile Live Tour 2011 Tower of Wish.
Moreover, E-Girls' 5th single Candy Smile is on sale since March 13.