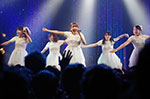 Starmarie held a solo concert at Shibuya Tsutaya O-East on January 2nd.
A lot of fans have enjoyed the dark fantasy world of Starmarie, 21 songs without talking, performance only.
Check out several photos of the live and the setlist below.
After the live show Starmarie Asia One-Man Tour 2015 have been announced on the screen.