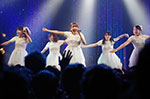 Starmarie held a solo concert at Shibuya Tsutaya O-East on January 2nd.
A lot of fans have enjoyed the dark fantasy world of Starmarie, 21 songs without talking, performance only.
Check out several photos of the live and the setlist below.
After the live show Starmarie Asia One-Man Tour 2015 have been announced on the screen.
March 15th : Tokyo, Japan
March 22nd : Sapporo, Japan
April 19th : Pipe, Taipei, Taiwan
April 29th : Hamamatsu, Japan
May 2nd : Movie Stars Cafe, Manila, Philippines
May 23rd : Osaka, Japan
June : Tokyo, Japan
Members of Starmarie have been surprised and cried because they have hoped a solo concert abroad.
Starmarie will hold a solo concert in Manila, Philippines, on May 2nd at Movie Stars Cafe for the first time in Japanese idol groups.
And they will also hold a solo concert in Taipei, Taiwan, on April 19th at Pipe.
They are planning to go to another country in Asia.
And it have been announced Starmarie have become the ambassador of e-earphone, Japanese No.1 earphone and headphone shop.
http://www.e-earphone.jp/STARMARIE
With this collaboration, Who Is Killed Circus (HPL version) have been released on iTunes and Spotify and KKBOX on January 5th.
The HPL version is the song optimized for listening by earphone and headphone.
Setlist
01. Who Is Killed Circus
02. Good Morining Hamamura Show
03. Letter of Invitation from Three Star Restaurant
04. A mad dance in the moonlight
05. Splendid Alibi of the Emperor
06. Graduation Ceremony of the Grandchild
07. Portrait of Beautiful Reona
08. My mom is a super guitarist
09. Vocaloid Is in Love
10. Cinderella can live only 124 days the rest of her life
11. 1,000 Years Love Story
12. Let's Find Work in a Haunted House
13. Mimicry Nero
14. Mole Mystery Tour
15. Good-Bye Obento
16. Time Machine Love
17. GrandfatherGrandfather
EN1. Andromeda propose
EN2. 1/3 no Junjou na Kanjou
EN3. House of a Nameless Star
EN4. Bread Factory of Tears. Concel Kamata
Photos