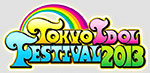 Tokyo Idol Festival 2013 will be held on July 27-28 at Odaiba.
It will be the 4th edition of Tokyo Idol Festival since its creation in 2010. Last year, 111 idol groups and 21500 fans participated in the event.
Idoling!!!, AeLL, Sakura Gakuin, The Possible, Tokyo Girls' Style, Negicco, and Vanilla Beans have already announced that they will perfom in the festival.
On May 14, the participation of 46 new groups and soloists was announced.
On May 29, 23 other idol groups and soloists have been added to the line-up.
On June 5, 15 new artists announced their participation.
On June 12, 8 other idol groups have been added.
HKT48 and RYUTist were the last guests announced on July 5.
Moreover, the timetable of TIF2013 has been revealed.