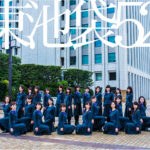 The debut single of Higashi Ikebukuro 52 entitled Watashi Saison (わたしセゾン) was unveiled.
This single is an answer to Keyakizaka46's 3rd single Futari Saison.
To put you in context, just as Keyakizaka46 is getting all the hypes for their outstanding performances every where they go, one company, Credit Saison, has decided create a special idol group.