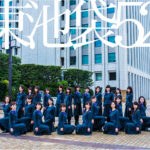 The debut single of Higashi Ikebukuro 52 entitled Watashi Saison (わたしセゾン) was unveiled.
This single is an answer to Keyakizaka46's 3rd single Futari Saison.
To put you in context, just as Keyakizaka46 is getting all the hypes for their outstanding performances every where they go, one company, Credit Saison, has decided create a special idol group.
Credit Saison has selected 24 members, who usually work as office ladies, from their office located in on the 52nd floor of a 60-floored skyscraper named Sunshine 60 in Ikebukuro district (Tokyo), to form this group that was suddenly announced on May 19.
As much as some people think that this is a joke by the company, their Twitter account says "We are in this for real!".
Watashi Saison will be released in three different versions, all of which can be exchanged for using points from the Saison Card starting June 1st.
The MV and its making have been released.
The song Watashi Saison was written by copywriter, Takashi Nakahata, and composed by Shinya Tada (who has composed songs for AKB48, Arashi, Momoiro Clover Z and more).
The music video and dance choreography were created by producers who previously worked with famous idol groups such as Team Syachihoko and Morning Musume.
More informations will be disclosed later.
Music Video (PV)