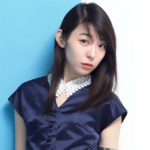 Shirato Kana will leave Dorothy Little Happy after a last live performance on July 23 at Mt.Rainier Hall Shibuya Pleasure Pleasure in Tokyo.
She will also retire from the entertainment industry.
The staff added that it will also be the end of Dorothy Little Happy's activites in the current system. Further details will be given later.
Shirato Kana was on hiatus since February due to poor physical health.
A message was posted on the idol group's official website. Shirato Kana wrote that was thinking about her graduation since last September, and that she had several discussions with the staff about it. She is sorry for this sudden announcement. She wants to follow her own path now.
Shirato Kana is a member of Dorothy Little Happy since July 2010.
We wish her the best of luck for the future.
Furthermore, Dorothy Little Happy's new single For You / Demo Sayonara (2017 ver.) will be released on May 31. Takahashi Mari is the only member of the idol group performing on it.