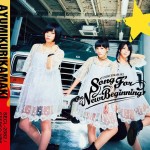 Ayumikurikamaki have unveiled their new single Tabidachi no Uta (旅立ちの唄 ; Song for the New Beginning).
It is the 4th single major of Ayumikurikamaki. It was released on November 23.
The single will serve as the theme song of the ending for the next episodes of Naruto Shippuden's epilogue. The story will be about the childhood of the characters Sasuke and Sakura.
The MVs were unveiled.