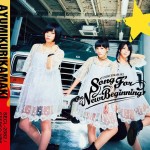 Ayumikurikamaki have unveiled their new single Tabidachi no Uta (旅立ちの唄 ; Song for the New Beginning).
It is the 4th single major of Ayumikurikamaki. It was released on November 23.
The single will serve as the theme song of the ending for the next episodes of Naruto Shippuden's epilogue. The story will be about the childhood of the characters Sasuke and Sakura.
The MVs were unveiled.
As you might have guessed, « 旅立ちの唄 » means « departure song » in Japanese. However, wa can read « Song for the New Beginning » in English.
The members appear for the first time without their bear costumes. They announced last May that they no longer wear bear costumes until their future live at the Nippon Budokan planned in 2017.
The single will be sold in normal and limited versions.
The limited edition will be on sale until the end of next December.
Tracklist
Regular Edition

CD

Tabidachi no Uta (旅立ちの唄)
Dan Suzumu GOOD!!! (弾進GOOD!!!)
SUGOROKU
Tabidachi no Uta (instrumental)
Dan Suzumu GOOD! ! ! (Instrumental)
SUGOROKU (instrumental)
Limited Edition

CD

Tabidachi no Uta (旅立ちの唄)
Dan Suzumu GOOD!!! (弾進GOOD!!!)
SUGOROKU
Tabidachi no Uta (instrumental)
Dan Suzumu GOOD! ! ! (Instrumental)
SUGOROKU (instrumental)

DVD

Tabidachi no Uta (Music Video)
Tabidachi no Uta (LIVE version) (Music Video)
AKM no Private Video PART Ⅳ (AKMのプライヴェート映像)
Music Video (PV)