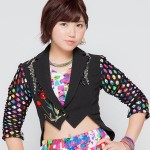 Takeuchi Akari birthday is today and may all of her birthday wishes come true.
Takeuchi Akari is a 2nd generation member and sub-leader of Angerme. Her colors are blue (2014-present) and previously red (2011-2014). She has been in Angerme for 5 years, 3 months and 5 days.
Takeuchi Akari joined Hello! Project in 2008 as a member of Hello Pro Egg (June 4th, 2008-October 16th, 2011). She was also a member of Shin Mini Moni and Satoyama Movement's unit Harvest.
She is known as Taka-chan and her zodiac sign is Sagittarius. Takeuchi Akari was born on November 23rd, in Saitama prefecture, Japan. She is an idol / singer / actress / model.
Takeuchi Akari is a cousin of Yajima Maimi (°C-ute).
Years active : 2008-present (8 years)
Q/A
Hobbies : playing outside
Special skills : sport