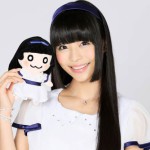 The new album of Terashima Yufu entitled Watashi ni Naru (わたしになる) will be on sale on September 21.
This is the first original album of the former BiS member, Terashima Yufu, since her solo debut in 2013.
It will contain the first singles of the idol singer such as : Yuflight, Campanula no Yuutsu, Neko no Naritai, Fuhehehehehehehe Dai Sakusen and Iyahaya Feeling.