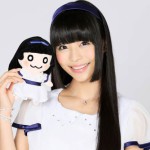 The new album of Terashima Yufu entitled Watashi ni Naru (わたしになる) will be on sale on September 21.
This is the first original album of the former BiS member, Terashima Yufu, since her solo debut in 2013.
It will contain the first singles of the idol singer such as : Yuflight, Campanula no Yuutsu, Neko no Naritai, Fuhehehehehehehe Dai Sakusen and Iyahaya Feeling.
Some previous songs were re-recorded for this album.
It will be released by the label TEICHIKU Entertainment.
The album will be available in regular (CD only) and limited editions (CD+DVD).
The limited edition DVD will contain the music videos of the last singles.
Tracklist
CD

Watashi ni Naru (わたしになる)
Fuhehehehehehehe Dai Sakusen (ふへへへへへへへ大作戦)
Suki ga Hajimaru 'album version) (好きがはじまる)
Campanula no Yuutsu (カンパニュラの憂鬱)
Oblate of Love (オブラート オブ ラブ)
Neko ni Naritai (猫になりたい)
Iyahaya Feeling (いやはや ふぃ~りんぐ)
Yuru-Chara Budōkai (ゆるキャラ舞踏会)
Hatsukoi no Silhouette (strings version) (初恋のシルエット)
101-Kai-me no First Dates (101回目のファーストキス)
Zen Zen (ぜんぜん)
Madamada (まだまだ)
Suki ga Koboreru (好きがこぼれる)
Yuflight (album version) (ゆーふらいと2016)
Music Video (PV)