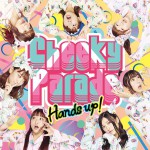 The new single of Cheeky Parade will be released on September 7.
It is entitled Hands up!.
This is its first single since Yamamoto Marin and Suzuki Mariya went on hiatus to study abroad in Los Angeles, California for 2 years.
Watch the MV.
In this single, the members are full of energy even if their pajama outfits (kawaii style), clothes meaning "go to sleep". Indeed, This is a contradiction with the song of an aggressive rock style.
The song was written and composed Hige Driver and arranged by his group HigedriVAN.
It will be available in regular and limited editions.
The tracklist is different depending on the edition. The Blu-ray will contain the video clip of Hands up!.
Furthermore, you can read our interview with Cheeky Parade at Japan Expo.
Tracklist
Regular edition

CD

Hands up!
Let's Party!
Hands up! (Instrumental)
Let's Party! (Instrumental)
Limited edition

CD

Hands up!
Let's Party!

Blu-ray

Hands up! (Music Video)
Hands up! (Music Video)
Music Video (PV)