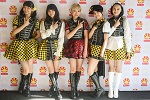 Babyraids Japan participated in Japan Expo 2016 in Paris Nord Villepinte, France, in July.
The leaders of the Emotional Idorock performed abroad for the first time at the festival.
Along with other medias, we had the opportunity to meet the members of the idol group.
Check out the interview with Babyraids Japan.
Could you introduce yourselves?
– My name is Rikako Ooya. Please call me Ricopin.
– My name is Manatsu Hayashi. Please call me Manatsu.
– My name is Erika Denya. Please call me Denchan.
– My name is Rio Watanabe. Please call me Rioton.
– My name is Nao Kami. Please call me Naosuke.
(note : Each member introduced herself in French)
This is the first time that Babyraids Japan are coming to France, and maybe to a foreign country. How do you feel about it?
– Denya Erika : That's great! The decision to come to Japan Expo was taken just when we were thinking that we would like the group to become more popular in Japan. And finally we are here to represent Japan.
– Takami Nao : The French audience is really enthusiastic.
What is "emotional idorock", the music genre that you belong to?
– Denya Erika : It has an emotional side. "Idorock" is a word combining "idol" and "rock". We have created it. It represents the desire to go beyond musical boundaries while remaining idols.
Do you have any habits before going on stage?
– Ooya Rikako : We join our hands just before the concert. Then, when each member is going on stage, we give her a pat on the back and we wish her good luck.
What did you think of French fans during your first live performance and the signing session?
– Ooya Rikako : The atmosphere was very friendly. We were expecting to meet a few fans, at most 5, and actually actually there were plenty of them. The were all very nice. They were trying to talk in Japanese, and we told a few words in French such as "merci".
Could you tell us about your latest single Senkou Believer?
– Hayashi Manatsu : The song is about a person who wants to make her dream come true. When we're singing it, we're thinking to our goal which is to become the best idol group in Japan. This is in harmony with this message.
Why did you change the name of the group to Babyraids Japan in early 2015 ?
– Denya Erika : After having performed on the stage of the Nippon Budokan, we aim to become the #1 idol group in Japan, as we said previously, but also to participate in the Kouhaku Uta Gassen. It is a famous music show broadcast on New Year's Eve on NHK. It was at that point that we decided this change in order to reflect our new attitude.
Could you give us your character traits?
– Denya Erika : I'm a calm person.
– Ooya Rikako : It's the opposite for myself. I'm 19 but, despite my age, I look younger, more immature. I like toys.
– Hayashi Manatsu : Some say that I'm very serious. I had never violated the rules, for example at school, and I had never dyed my hair until 2 years ago.
– Takami Nao : I look like a tomboy, but I keep a feminine side. I like baking cookies.
– Watanabe Rio : I like mangas and collecting things like that.
What is your best memory since your debut?
– Ooya Rikako : This is a difficult question. I would say our trip to France. Babyraids Japan are active for 4 years, and I didn't believe that we could hold a live performance overseas. Moreover, the fans are cheerful. I would like to visit the Eiffel Tower.
What is the next step to become the greatest idol group?
– Denya Erika : On October 6-9, we will organize Emotional Idorock Fes. We will be on stage during 69 hours. This is our main project now.
Babyraids Japan will celebrate their 5th anniversary next year. Is there a special event scheduled?
– Denya Erika : This is possible, but nothing has been decided. We don't know yet.
What were your motivations to become idols?
– Ooya Rikako : When I was 8, I've seen a concert of BoA. It impressed me a lot, and this is what inspired me to become a singer. Later, with Nao, we participated in auditions to become idols (note : to join Idoling!!!), but we didn't succeed. It gave us even more desire to reach achieve our goal.
– Denya Erika : First, I didn't want to become an idol. I was not interested. But when I was asked to become an idol, I thought about it, and once I started really enjoyed it. Now I feel good in this industry.
– Watanabe Rio : When I was a child, I really wanted to become an idol. And I could realize that dream after Babyraids auditions.
– Hayashi Manatsu : My main goal was to help my family financially by having a career as an idol.
Do you have a message for your fans?
– Denya Erika : Our strong point is thr concerts. I suggest you come see us live. We have the reputation of being "hot" on stage, so it would be a very good experience. Thank you for your support.