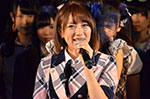 Takahashi Minami announced her graduation from AKB48.
Takahashi Minami will leave the idol group on the 10th anniversary of AKB48 on December 8, 2015.
Yokoyama Yui has been appointed to be her successor as general manager.
These announcements were made during an event held to celebrate the 9th anniversary of AKB48 at their theater in Tokyo. More than 100 members participated in the live performance.