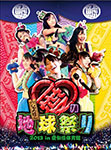 The concert Team Syachihoko Ai no Chikyuu Matsuri 2013 (チームしゃちほこ 愛の地球祭り2013 in 愛知県体育館) will be released on DVD and Blu-ray on May 28.
Team Syachihoko's live performance was held at Aichi Prefecture Gymnasium in Nagoya on December 23, 2013.
The preview video has been released.
The idol group performed 24 songs on stage at Ai no Chikyuu Matsuri concert.
The DVD and the Blu-ray include footage of the making-of and a "school trip" of the members.
The first press editions come with a 44-page booklet.
Furthermore, Team Syachihoko's 3rd major single Iikurashi (いいくらし) will be on sale on May 14.
Setlist
Debayashi (出囃子)
The Stardust Bowling (ザ・スターダストボウリング)
Onegai! unBORDE (お願い!unBORDE)
Owari no Hana (尾張の華)
Shuto Iten Keikaku (首都移転計画)
Ai no Chikyuu Matsuri (愛の地球祭)
Iikurashi (いいくらし)
Pizza Desu! (ピザです!)
Itadaki Nippon! ~Omisore Shimashita Nagoya Meshi~ (いただきっニッポン!~おみそれしましたなごやめし~)
Saikyou Pare Parade (最強パレパレード)
Watashi ga Center (私がセンター)
Ottori Girl no Yuuutsu (おっとりガールの憂鬱)
Akamiso Blood (赤味噌Blood)
Katte ni Hybrid (勝手にハイブリッド)
Summer Lover (サマラバ)
Goburei! Syachihoko Deluxe (ごぶれい!しゃちほこでらックス)
Koibito wa Sniper (恋人はスナイパー)
OEOEO
Otome (乙女受験戦争)
Soko Soko Premium (そこそこプレミアム)
Triple Seven (トリプルセブン)
Maji Kansha (マジ感謝)
– Encore –
Daisuki! (大好きっ!)
Dera Disco (でらディスコ)
Bonus Footage
Making of Ai no Chikyuu Matsuri 2013 (メイキング・オブ・愛の地球祭り2013)
TJKS Shuugaku Ryokou ~Budokan wa Teishaeki Desu~ (TJKS修学旅行 ~武道館は停車駅です~)
Video