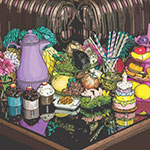 Especia's 1st album Gusto will be released on May 28.
The album contains 16 songs including remix versions of Especia's previous singles and 9 new songs.
The MV for No.1 Sweeper has been released.
These songs are a mix of various styles such as disco, funk, j-pop…
The limited edition comes with a bonus DVD featuring a video of the live performance Especia va Bien en Tokyo held on January 11, 2014 at Daikanyama Unit.
Moreover, the idol group will hold 2 live performances soon :
Te Gusta La Noche? / Te Gusta La Tarde?

on May 25 at Rose in Yokohama.

Especia 2nd Anniversary Live! Full Band One-man!! (フルバンドワンマン!!)

on June 1 at Umeda Club Quattro in Osaka.
Tracklist
CD

Midnight Confusion (ミッドナイトConfusion) (Pureness Waterman Edit)
Ya・Me・Te! (Gusto ver.)
Adventure wa Giniro ni (アバンチュールは銀色に) (Gusto ver.)
Umibe no Satie (海辺のサティ) (PellyColo Remix)
No.1 Sweeper
Behind You
Foolish
L'elisir d'amore
Usotuki na Anela (嘘つきなアネラ)
Abyss (アビス)
BayBlue
DVD

Live

Especia va Bien en Tokyo

2014.1.11 @ Daikanyama Unit
Music Video (PV)