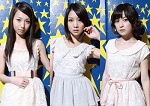 Tomato n' Pine (Tomapai) announced that the group is going to disband at the end of the year.
Tomato n' Pine will hold a final live titled The First and The Last Pop Song 4ever ~Sankai~ (~散開~) on December 29 at Nishi-Azabu Eleven.
Tomapai started its activities 3 years and a half ago, in April 2009.
Yui, Hina, and Wada plan to continue their careers separately.
Schedule
Date : 29/12/2012
Time : 15:00
Venue : Nishi-Azabu Eleven, Tokyo