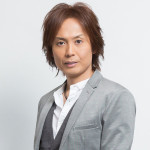 Tsunku♂ lost his voice after having vocal cords removed due to his laryngeal cancer.
This sad news was revealed by himself at the entrance ceremony of Kinki University on April 4.
However, Tsunku♂ will continue to work as a producer, songwriter and lyricist for Hello! Project.
He explained on his blog that he was starting a new life. His has persisting despite medical treatment, so he has chosen to "throw away his precious voice for the chance of continuing to live".
Tsunku♂ attended the ceremony as a guest. As he is not able to speak, his message for the students appeared on a screen behind him. He played the guitar alongside the Kindai Girls on stage.
We wish him all the best for his recovery.