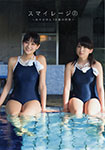 Wada Ayaka and Fukuda Kanon (S/mileage) will release their photobook S/mileage 2 ~Ayakanon 18 sai no Yakusoku~ (和田彩花・福田花音 フォトブック 『 スマイレージ 2 〜あやかのん18歳の約束〜 』) will be released on April 25.
This photobook commemorates the graduation of Wada Ayaka and Fukuda Kanon from high school. The theme is school life and after school activities.
The book also includes an interview with both 1st generation members of S/mileage.
It comes with a bonus DVD featuring making-of footage.