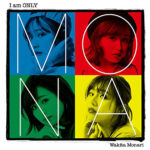 Wakita Monari will release her new album I am ONLY on July 26.
This is her first solo album and now marks the debut of Wakita Monari, nicknamed Mona, after her departure from Especia.
You'll find her first three singles : In The City, Boy Friend and I'm with you.
The MV for the new song Nakimushi Revolution was also posted.
Watch the videos below!
Only one edition will be available.
The CD will contain 12 songs in total.
Tracklist
IN THE CITY
IRONY
Nakimushi Revolution (泣き虫レボリュージョン)
Dippin' (ディッピン)
Cloudless Night
Inori no Kotoba (祈りの言葉)
Boy Friend
I'm with you
EST! EST!! EST!!!
Akai Skirt (赤いスカート)
Ano ne… (あのね、、、)
Yoake no View (夜明けのVIEW)
Music Video (PV)