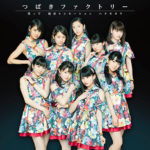 The new single of Tsubaki Factory was unveiled !
It will be entitled Shuukatsu Sensation / Waratte / Hana Moyou (就活センセーション/笑って/ハナモヨウ) ans will be on sale on July 26.
The music videos were also unveiled.
The song Shuukatsu Sensation was written and composed by Takui Nakajima.
Waratte was written by Maisa Tsuno.
Whereas the song Hana Moyou was written MEG.ME and composed by KOUGA.
The single will be sold in seven versions: 3 regular editions A, B and C (including CD only) and 4 limited editions rated A, B, C and SP (containing each one with a different DVD and a serial number card which, when entered in a lottery, could win a ticket to one of the single's launch events). A special box set, including all versions of the single, will be available.
Tracklist
CD

Shuukatsu Sensation (就活センセーション)
Waratte (笑って)
Hana Moyou (ハナモヨウ)
Shuukatsu Sensation (Instrumental)
Waratte (Instrumental)
Hana Moyou (Instrumental)
Limited Edition A DVD

Shuukatsu Sensation (Music Video)
Limited Edition B DVD

Waratte (Music Video)
Limited Edition C DVD

Hana Moyou (Music Video)
Limited Edition SP DVD

Shuukatsu Sensation (Dance Shot Ver.)
Waratte (Dance Shot Ver.)
Hana Moyou (Dance Shot Ver.)
Music Video (PV)