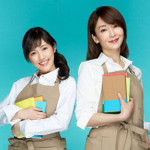 Watanabe Mayu (AKB48) will be starring in the drama Tatakau! Shoten Girl (戦う!書店ガール ; Bookstore Girl).
The drama will start airing on Kansai TV and on Fuji TV in April.
Watanabe Mayu will play the leading role alongside actress Inamori Izumi.
The story depicts a conflict between a 20-year-old girl (Watanabe Mayu) and a 40-year-old woman (Inamori Izumi) due to generation gap. They work together at a bookstore.
The episodes of Tatakau! Shoten Girl will be aired every week on Tuesday evening at 10 pm.
The story is based upon the book series of the same name by Aono Kei.
Furthermore, AKB48's 39th single Green Flash will be on sale on March 4.