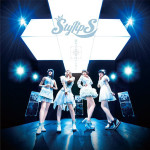 StylipS' new single Mayo Mayo Compass wa Iranai (迷々コンパスはいらない) will be released on March 4.
It is the ending theme song for the anime Gundam Build Fighters Try (ガンダムビルドファイターズトライ).
The short version of the MV has been unveiled.
The lyrics were written by Hata Aki. The music was composed and arranged by Takada Kyo.
The Artist Edition includes solo songs by Toyota Moe and Ito Miku and a bonus DVD.
The Anime Edition contains only 2 songs and their instrumental versions.
Furthermore, StylipS First Live Tour 2015 The Supersonic Supernova is going to be held from March to April 2015 in Tokyo, Nagoya and Osaka.
StylipS' 2nd album The Supernova Strikes is on sale since November 26.
Tracklist
Artist Edition

CD

Mayo Mayo Compass wa Iranai (迷々コンパスはいらない)
Cafe Mocha Side feat. Toyota Moe (カフェモカ・サイド feat.豊田萌絵)
Dear Honesty feat. Ito Miku (伊藤美来)
Fortune Letter (フォーチュン・レター)
Mayo Mayo Compass wa Iranai (Instrumental)
Cafe Mocha Side (Instrumental)
Dear Honesty (Instrumental)
Fortune Letter (Instrumental)

DVD
Anime Edition

CD

Mayo Mayo Compass wa Iranai
Fortune Letter
Mayo Mayo Compass wa Iranai (Instrumental)
Fortune Letter (Instrumental)
Music Video (PV)