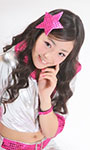 Yamashita Honoka is going to withdraw from Candy Kiss. She will leave the idol group in late March 2014.
Yamashita Honoka decided to leave Candy Kiss in order to focus on studies and dance.
Furthermore, Candy Kiss will release their 3rd single Beautiful Girl on March 19.
Yamashita Honoka's graduation ceremony will be held at the same period.
She is a member of the idol group since February 2012.