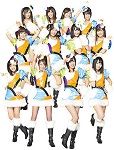 YGA (Yoshimoto Gravure Agency) announced that the group is going to disband on March 3, 2013.
The information was given at their one-man live at Lumine The Yoshimoto in Shinjuku on November 10.
A graduation concert will be held on March 3 at Shinagawa Stellar Ball. All 10 members of YGA will graduate at the event.