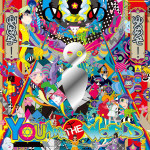 The new album of You'll Melt More! entitled YOU ARE THE WORLD was released since November 11.
This is the first best-of album of  You'll Melt More! (Yurumerumo!) since its debut. The CD contains several titles already released on the recent singles of the idol group, Hadimasumo! and Literature and Destroy, and its recent EP SUI.CI.DE.
It also contains new songs.
One edition is available.
Tracklist
Momomomomomo! Sesesesesese! (モモモモモモ!世世世世世世!)

Korogare !

 (転がれ‼︎)
Hamidasumo!
1! 2! Kung Fu! (1!2!かんふー!)
Nan (難)
Fui Ute!! (不意打て‼︎)
Nemutai CITY vs Dokusho Nikki  (眠たいCITY vs 読書日記)
Ha ga nai Hi (波がない日)
Refresh Your Jewellery Box
KAWAII Hardcore  (KAWAIIハードコア銀河)
Toy Toy (よいよい)
id Idol (id アイドル)
Yume Nate (夢なんて)
Watashi e (私へ)
Motto mo mi Shiimono (もっとも美しいもの)
NNN
Only You