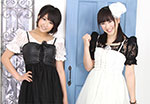 Yu-ka and Risa announced their graduation from Mary Angel.
Both girls will leave the idol group after a last live performance scheduled on February 15 at Osaka Ruido.
As a result, Mary Angel are going to disband at the same time because they were the only remaining members. The idol group had started its activities 8 years ago.
Yu-ka told that she is going to focus on her studies at university.
Risa wants to work in the field of beauty.
The 2 idols thanked the fans for their support.
Yu-ka and Risa are also going to graduate from Fine Promotion.
We wish them all the best in their future endeavors.