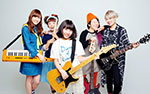 Japanese female pop rock band Tancobuchin (たんこぶちん) released on YouTube their cover version of Momoiro Clover Z song Naitemo Iindayo (泣いてもいいんだよ).
Check out the video.
The lyrics and the music of Naitemo Iindayo were written by Nakajima Miyuki. The j-pop single had already worked in collaboration with the members of Tancobuchin on her latest single Mugi no Uta (麦の唄). This band version was arranged by Nakajima Miyuki's producer Seo Ichizo.
The song is available on the iTunes Store since December 24.
Naitemo Iindayo will be featured as a bonus track on the band's new album Tancobuchin Vol.2 which will be released on January 28.
Music Video (PV)