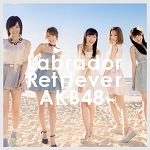 AKB48's 36th single Labrador Retriever (ラブラドール・レトリバー) will be released on May 21.
The list of the 36 Senbatsu members for Labrador Retriever has been revealed. The center is Watanabe Mayu.
The short version of the MV, the covers and the tracklist of each edition have been unveiled.
The coupling track is Oshima Yuko's graduation song Kyou Made no Melody (今日までのメロディー).
This single includes a voting ticket for the 6th AKB48 Senbatsu General Election 2014.
Senbatsu members :
AKB48 : Iriyama Anna, Okada Nana, Owada Nana, Kashiwagi Yuki, Kato Rena, Kawaei Rina, Kizaki Yuria, Kitahara Rie, Kojima Haruna, Kojima Mako, Shimazaki Haruka, Takahashi Juri, Takahashi Minami, Nishino Miki, Minegishi Minami, Yokoyama Yui, Watanabe Mayu
SKE48 : Oba Mina, Kitagawa Ryoha, Kimoto Kanon, Suda Akari, Furuhata Nao, Matsui Jurina, Matsui Rena
NMB48 : Ichikawa Miori, Shibuya Nagisa, Yagura Fuuko, Yabushita Shu, Yamamoto Sayaka, Watanabe Miyuki
HKT48 : Ota Aika, Kodama Haruka, Sashihara Rino, Tashima Meru, Tomonaga Mio, Miyawaki Sakura
The first announcements were made on March 29 during AKB48 Haru Con.
4 versions are available. The CD contains 3 songs. The 3rd track is different depending on the edition. They come with a DVD featuring the music video and bonus footage.
The limited editions include a ticket for a handshaking event with the members of the idol group.
Tracklist
Type A

CD

Labrador Retriever (ラブラドール・レトリバー)
Kyou Made no Melody (今日までのメロディー) (Oshima Yuko Graduation Song)
Kimi wa Kimagure (君は気まぐれ)
Labrador Retriever (ラブラドール・レトリバー) (Instrumental)
Kyou Made no Melody (今日までのメロディー) (Instrumental)
Kimi wa Kimagure (君は気まぐれ) (Instrumental)

DVD

Labrador Retriever (ラブラドール・レトリバー) (Music Video)
Kyou Made no Melody (今日までのメロディー) (Music Video)
Kimi wa Kimagure (君は気まぐれ) (Music Video)
Nakamura "Kengai" Mariko no Hosare Men Kouza (中村"圏外"麻里子の干されメン講座)
Type K

CD

Labrador Retriever (ラブラドール・レトリバー)
Kyou Made no Melody (今日までのメロディー) (Oshima Yuko Graduation Song)
Itoshiki Rival (愛しきライバル)
Labrador Retriever (ラブラドール・レトリバー) (Instrumental)
Kyou Made no Melody (今日までのメロディー) (Instrumental)
Itoshiki Rival (愛しきライバル) (Instrumental)

DVD

Labrador Retriever (ラブラドール・レトリバー) (Music Video)
Kyou Made no Melody (今日までのメロディー) (Music Video)
Itoshiki Rival (愛しきライバル) (Music Video)
Making of Labrador Retriever Part 1 (Making of ラブラドール・レトリバー 前編)
Type B

CD

Labrador Retriever (ラブラドール・レトリバー)
Kyou Made no Melody (今日までのメロディー) (Oshima Yuko Graduation Song)
B Garden (Bガーデン)
Labrador Retriever (ラブラドール・レトリバー) (Instrumental)
Kyou Made no Melody (今日までのメロディー) (Instrumental)
B Garden (Bガーデン) (Instrumental)

DVD

Labrador Retriever (ラブラドール・レトリバー) (Music Video)
Kyou Made no Melody (今日までのメロディー) (Music Video)
B Garden (Bガーデン) (Music Video)
Making of Labrador Retriever Part 2 (Making of ラブラドール・レトリバー 後編)
Type 4

CD

Labrador Retriever (ラブラドール・レトリバー)
Kyou Made no Melody (今日までのメロディー) (Oshima Yuko Graduation Song)
Heart no Gasshutsu Game (ハートの脱出ゲーム)
Labrador Retriever (ラブラドール・レトリバー) (Instrumental)
Kyou Made no Melody (今日までのメロディー) (Instrumental)
Heart no Gasshutsu Game (ハートの脱出ゲーム) (Instrumental)

DVD

Labrador Retriever (ラブラドール・レトリバー) (Music Video)
Kyou Made no Melody (今日までのメロディー) (Music Video)
Heart no Gasshutsu Game (ハートの脱出ゲーム)  (Music Video)
Kizaki Yuria no Team 4 (木﨑ゆりあのTeam 4) (Music Video
Theater Edition

CD

Labrador Retriever (ラブラドール・レトリバー)
Kyou Made no Melody (今日までのメロディー) (Oshima Yuko Graduation Song)
Futari wa Dekiteru (2人はデキテル)
Labrador Retriever (ラブラドール・レトリバー) (Instrumental)
Kyou Made no Melody (今日までのメロディー) (Instrumental)
Futari wa Dekiteru (2人はデキテル) (Instrumental)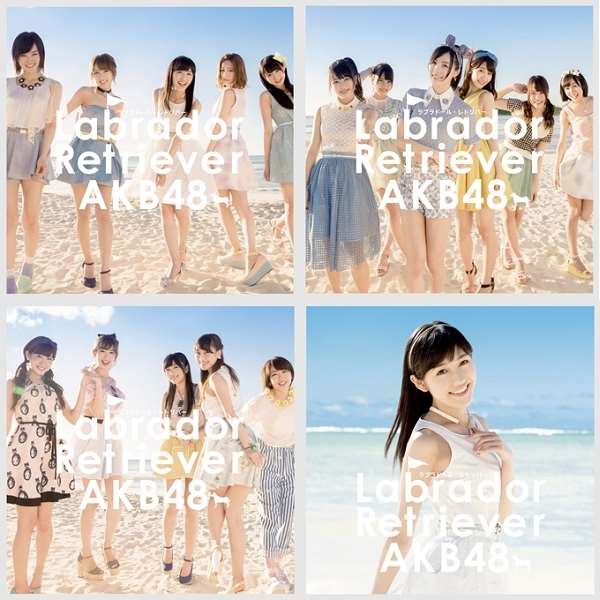 Music Video (PV)