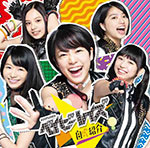 Babyraids' 1st album Jiko Shoukai (自虎紹介) will be released on July 2.
This long-awaited album contains 16 songs including Babyraids' previous singles and a new one titled Yuuki no Uta (勇気のうた).
The lyrics and the music of this new song was written and composed by Akino Atsushi from Tsuru. It is a rock ballad showing a new side of the members.
The Type A edition of Jiko Shoukai (自虎紹介) includes a bonus CD with the coupling songs from the idol group's previous releases
The Type B edition comes with a DVD featuring the dance version of their music videos and live footage from their live performance Babyraids Densetsu no Kaminari Mai! -Mouko Shuurai- (ベイビーレイズ伝説の雷舞!-猛虎襲来) held on December 22, 2013 at Shinkiba Studio Coast.
Furthermore, Babyraids' 7th single Bucchake Rock'n Hacchake Roll / Baby Step (ぶっちゃけRock'n はっちゃけRoll / ベイビーステップ) is on sale since May 14.
The idol group will hold a live performance on July 13 at Hibiya Open-Air Concert Hall in Tokyo.
Tracklist
CD

Michishirube (ミチシルベ)
Yuuki no Uta (勇気のうた)
Babyraids (ベイビーレイズ)
Charinko Idol (チャリンコアイドル)
Koyomi no Ue dewa December (暦の上ではディセンバー)
Bucchake Rock'n Hacchake Roll (ぶっちゃけRock'n はっちゃけRoll)
Rock on Darling (ロックオン・ダーリン)
Baby Ambitious (ベイビーアンビシャス!)
Natsuiro Party (夏色パーティー)
Koi wa Panic (恋はパニック)
Baby Step (ベイビーステップ)
Jump
Namida no Namae (涙の名前)
Hapiba de Song! (ハピバでソング!)
Baby Revolution (ベイビーレボリューション)
Tiger Soul
CD2 (Type A)

S.O.K.
Level 1 ~Jikoshoukai Ver.~ (Level.1~自己紹介Ver.~)
Gate of the Tiger (ゲート・オブ・ザ・タイガー)
Christmas ga Rival (クリスマスがライバル)
Happy New Year (ハッピーニューイヤー)
Saijoukyuu!! (最上級!!)
Together! Together! Together! (トゥゲザー!トゥゲザー!トゥゲザー!)
Smile
Bokura no Real (ボクラノリアル)
Get over Night
Supernova (スーパーノヴァ)
Atarashii Sekai (新しい世界)
Big Star! (ビッグ☆スター!)
Gate of the Tiger Remix (ゲート・オブ・ザ・タイガー Remix ~前略、虎ノ門より~)
Juuden Mantan ~ Saturday Night (充電満タン~サタデーナイト)
Again and again
Baby Revolution (ベイビーレボリューション) ~initial edition~
DVD (Type B)

Babyraids (ベイビーレイズ) Dance Ver.
Baby Revolution (ベイビーレボリューション) Dance Ver.
Jump Dance Ver.
Baby Ambitious! (ベイビーアンビシャス!) Dance Ver.
Koyomi no Ue dewa December (暦の上ではディセンバー)
Koi wa Panic (恋はパニック) Dance Ver.
Bucchake Rock'n Hacchake Roll (ぶっちゃけRock'n はっちゃけRoll) Dance Ver.
Gate of the Tiger (ゲート・オブ・ザ・タイガー) Dance Ver.
Tora no Mon Gakuen ~Boku no Heart wa Dare no Mono?~ (虎ノ門学園 ~僕のハートは誰のもの?~)
Babyraids Densetsu no Kaminari Mai! -Mouko Shuurai- 2013.12.22 at Shinkiba Studio Coast (ベイビーレイズ伝説の雷舞!-猛虎襲来- 2013.12.22 at 新木場Studio Coast ダイジェスト)