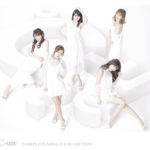 °C-ute will release their last album °Complete Single Collection on May 3.
Thsi is their best-of album to be released before their break-up in June.
It is also a box set including a total of 6 CDs.
The first 3 CDs will regoup all the °C-ute's singles since their debut in 2005 util their last single To Tomorrow / Final Squall / The Curtain Rises released in last March.
The 3 other CDs will contain the B-side songs of the singles and brand new songs never released previously.
The album will be also available in limited editions rated A and B. These editions will be sold (each one) with a different DVD (containing clips and live) ; note that these editions will include the first 3 CDs only .
We wish a good continuation to the °C-ute members after the group break-up and their graduation from Hello! Project.
Tracklist
CD1

Massara Blue Jeans (まっさらブルージーンズ)
Soku Dakishimete (即 抱きしめて)
Ooki na Ai de Motenashite (大きな愛でもてなして)
Wakkyanai (Z) (わっきゃない(Z))
Sakura Chirari (桜チラリ)
Meguru Koi no Kisetsu (めぐる恋の季節)
Tokaikko Junjou (都会っ子 純情)
LALALA Shiawase no Uta (LALALA 幸せの歌)
Namida no Iro (涙の色)
Edo no Temari Uta II (江戸の手毬唄II)
FOREVER LOVE
Bye Bye Bye!
Shochuu Omimai Moushiagemasu (暑中お見舞い申し上げます)
EVERYDAY Zekkouchou!! (EVERYDAY 絶好調!!)
SHOCK!
Campus Life ~Umarete Kite Yokatta~ (キャンパスライフ ~生まれて来てよかった~)
Dance de Bakoon! (Danceでバコーン!)
Aitai Lonely Christmas (会いたいロンリークリスマス)
CD2

Kiss me Aishiteru (Kiss me 愛してる)
Momoiro Sparkling (桃色スパークリング;)
Sekaiichi HAPPY na Onna no Ko (世界一HAPPYな女の子)
Kimi wa Jitensha Watashi wa Densha de Kitaku (君は自転車 私は電車で帰宅)
Aitai Aitai Aitai na (会いたい 会いたい 会いたいな)
Kono Machi (この街)
Crazy Kanzen na Otona (Crazy完全な大人)
Kanashiki Amefuri (悲しき雨降り)
Adam to Eve no Dilemma (アダムとイブのジレンマ)
Tokai no Hitorigurashi (都会の一人暮らし)
Ai tte Motto Zanshin (愛ってもっと斬新)
Kokoro no Sakebi wo Uta ni Shitemita (心の叫びを歌にしてみた)
Love take it all
The Power
Kanashiki Heaven (Single Version) (悲しきヘブン)
I miss you
THE FUTURE
CD3

The Middle Management ~Josei Chuukan Kanrishoku~ (~女性中間管理職~)
GamushaLIFE (我武者LIFE)
Tsugi no Kado wo Magare (次の角を曲がれ)
Arigatou ~Mugen no Yell~ (ありがとう~無限のエール~)
Arashi wo Okosunda Exciting Fight! (嵐を起こすんだ Exciting Fight!)
Naze Hito wa Arasoun Darou? (何故人は争うんだろう?)
Summer Wind
Jinsei wa STEP! (人生はSTEP!)
Mugen Climax (夢幻クライマックス)
Ai wa Maru de Seidenki (愛はまるで静電気)
Singing ~Ano Koro no You ni~ (〜あの頃のように〜)
To Tomorrow
Final Squall (ファイナルスコール)
The Curtain Rises
CD4 – Coupling Tracks Disc 1

JUMP
Bishoujo Shinri (美少女心理)
Shiritsu Kyougaku (私立共学)
Saikoukyuu no Enjoy GIRLS (最高級のエンジョイGIRLS)
Darling I LOVE YOU (°C-ute ver.) (ダーリン I LOVE YOU)
"Wasuretakunai Natsu" (「忘れたくない夏」)
Seventeen's VOW (セブンティーンズ VOW)
Go Go Go!
"Zansho Omimai Moushiagemasu." (「残暑 お見舞い 申し上げます。」) (Suzuki Airi solo)
Amai Wana (甘い罠)
Ikiyouze! (生きようぜ!)
Tachiagare Otometachi (立ち上がれ 乙女達)
Kore Ijou Kirawaretakunai no (これ以上 嫌われたくないの)
Seishun! Mugen Power (青春! 無限パワー)
CD5 – Coupling Tracks Disc 2

Hatachimae no Onna no Ko (二十歳前の女の子)
FARAWAY
Idai na Chikara wo! (偉大な力を!)
"Ai wa Itsumo Itsumo" (「愛はいつもいつも」)
Kanashiki Heaven (悲しきヘブン) (Suzuki Airi& Okai Chisato)
Saikou Music (最高ミュージック)
Ame (雨) (Yajima Maimi solo)
Haeotoko (ハエ男)
The☆Treasure Box (ザ☆トレジャーボックス)
Chikyuu Kara no Sanjuusou (地球からの三重奏) (Yajima Maimi, Suzuki Airi & Okai Chisato)
Watashi wa Tensai (私は天才) (Nakajima Saki & Hagiwara Mai)
Dare ni mo Naisho no Koishiteiru no (誰にも内緒の恋しているの)
Attakai Ude de Tsutsunde (あったかい腕で包んで)
Please, love me more!
Yuuwaku no Kyuujitsu (誘惑の休日)
CD6 – Rare Tracks Disc 3

Yuki ga Chirari (雪がチラリ)
Come Together (°C-ute ver.)
Juliet Juliet (ジュリエット ジュリエット)
Kimi wa Jitensha Watashi wa Densha de Kitaku (Winter ver.) (君は自転車 私は電車で帰宅(ウインターVer.))
Koero! Rakuten Eagles (越えろ! 楽天イーグルス)
Kirai de Kirai de Kirai (嫌いで嫌いで嫌い)
Chou HAPPY SONG (Single ver.) (超HAPPY SONG) (Berryz Koubou & °C-ute)
GamushaLIFE (Acoustic Ver.) (我武者LIFE)
Neruko wa Cute (寝る子はキュート)
Samurai☆Baby (サムライ☆ベイビー)
Ataru mo Hakke!? (あたるも八卦!?)
Akuma de Cute na Seishun Graffiti (アクマでキュートな青春グラフィティ)
Yume (夢)
Rin (凜)
Zenbu Owatta Kaerimichi (全部終わった帰り道)
Limited Edition A Blu-ray DVD

°C-ute Special Live 2017 ~°Cocktail in °COTTON CLUB~ (Video)
Limited Edition B Blu-ray DVD

All Music Video Clips