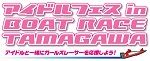 Vanilla Beans, Ono Erena, and Babyraids will perform at Idol Fes in Boat Race Tamagawa Vol.8.
The concert will be held on May 25 in Tokyo.
As its name suggest, this live is part of the events organized around a boat race on Tama river in Tokyo.
Vanilla Beans participated in all editions of the festival since its creation.
Schedule
Date : 25/05/2013
Time : 10:00
Venue : Tokyo
Line-up :

Vanilla Beans
Ono Erena
Babyraids