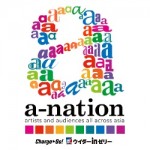 Up Up Girls, Kikkawa You, Super☆Girls, Cheeky Parade, Tokyo Girls' Style, Dream5, 9nine, and more idol groups will perform at Idol Nation 2013.
The concert will be held on August 10 at Yoyogi National Gymnasium, Tokyo
This live is part of a-nation Island festival which will take place on August 3-11.
On June 26, AKB48, SKE48, Dorothy Little Happy, i☆Ris, and Weather Girls have been added to the line-up.
Schedule
Date : 10/08/2013
Time : 14:00
Venue : Yoyogi National Gymnasium, Tokyo
Line-up :

Up Up Girls
Kikkawa You
Super☆Girls
Cheeky Parade
Tokyo Girls' Style
Dream5
9nine
AKB48
SKE48
Dorothy Little Happy
i☆Ris
Weather Girls