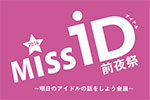 Dempagumi.inc, Vanilla Beans, Weather Girls, Sunmyu, Houkago Princess, Up Up Girls, Oomori Seiko, Nanba Shiho, and more will perform at Miss iD (Idol) 2014 Zenyasai ~Ashita no Idol no Hanashi wo Shiyou Kaigi~ (ミスiD(アイドル)2014前夜祭 ~明日のアイドルの話をしよう会議~).
The live will be held on April 18 at Shibuya O-East, Tokyo.
Idols and models will participate in the event.
Schedule
Date : 18/04/2013
Time : –
Venue : Shibuya O-East, Tokyo
Line up :

Dempagumi.inc
Vanilla Beans
Weather Girls
Sunmyu
Houkago Princess
Up Up Girls
Oomori Seiko
Nanba Shiho
Tamashiro Tina
Miss iD 2013