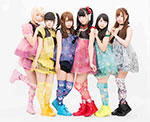 Moso Calibration's 6th single Kanashimi Calibration (悲しみキャリブレーション) will be released on November 18.
New members Amamiya Iori and Mizuki Yumeko are making their first appearance with Moso Calibration on this single.
Shindo Miyuna graduated in early October.
The short version of the MV has been unveiled.
The theme of Kanashimi Calibration is a broken love. The song is about the painful emotions felt.
It is the ending theme song for the drama Jitsuzai-Sei Million Arthur (実在性ミリオンアーサー) airing on TVK Yokohama.
The B-side Hajimari ga Hajimaru (はじまりがはじまる) marks the determination of the 6 members of Moso Calibration about the new beginning of the idol group.
The music video was made in collaboration with Dempagumi.inc.
2 editions are available.
Type A comes with a DVD featuring the music video.
Type B includes a bonus track.
Tracklist
Type A

CD

Kanashimi Calibration (悲しみキャリブレーション)
Hajimari ga Hajimaru (はじまりがはじまる)
Kanashimi Calibration (Off Vocal)
Hajimari ga Hajimaru (Off Vocal)

DVD

Kanashimi Calibration (Music Video)
Type B

CD

Kanashimi Calibration
Hajimari ga Hajimaru
Stand ~Koko ni Iru yo~ Hitomi ni Utsuru no wa Kitto MoCali! Mix (Stand~ここにいるよ~瞳に映るのはきっと妄キャリ!Mix)
Kanashimi Calibration (Off Vocal)
Hajimari ga Hajimaru (Off Vocal)
Music Video (PV)