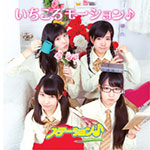 Station♪ will release their new single Ichikoro Motion (いちころモーション♪) on February 26.
This is the 8th single from Station♪. Only one edition is available. The CD includes the title song and its instrumental version.
The 30-second CM has been released.
It is the 3rd CD of Station♪ to be released in 3 consecutive months following Rush Hour!!! (ラッシュアワー!!!) on December 18 and Wonder Japan @ Station (ワンダージャパン@ステーション♪) on January 22.
Furthermore, Airin will celebrate her birthday during Station♪'s live performance which will be held on January 19 at Roppongi Morph Tokyo.
Tracklist
Ichikoro Motion (いちころモーション♪)
Ichikoro Motion (いちころモーション♪) Motion (Instrumental)
Music Video (PV)