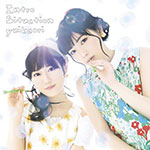 YuiKaori's new single Intro Situation will be released on July 2.
This is the 9th single from YuiKaori. It is their first summer pop song.
The short version of the MV has been released.
2 editions are available.
The CD contains 2 songs and their instrumental versions.
It includes a bonus DVD with the MV and making-of footage.
Furthermore, YuiKaori's latest single Lucky Ducky!! is on sale since April 9.
The idol group will hold a live performance on May 24 at Differ Ariake in Tokyo.
Their birthday special live will be held on August 16 at AiiA Theater Tokyo.
Tracklist
CD

Intro Situation
Mirroring Designs
Intro Situation (Instrumental)
Mirroring Designs (Instrumental)

DVD

Intro Situation (Music Video)
Making-of
Music Video (PV)